Posts for tag: periodontal disease
By Clarke Street Family Dental
June 23, 2018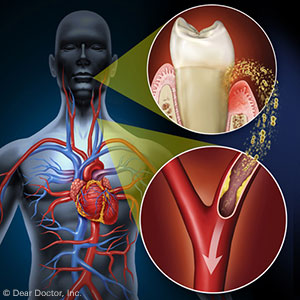 If you have periodontal (gum) disease, it's important for you to know its effects aren't limited to your mouth. A number of studies demonstrate gum disease can affect the rest of your body — and what may be going on elsewhere could likewise stimulate gum disease.
Here are 3 diseases or conditions that seem to share a link with gum disease.
Diabetes. This chronic disease results from the body's inability to interact properly with insulin, the hormone necessary for turning glucose (sugar) into energy, or producing enough of it. There's clear evidence that having diabetes increases your risk of gum disease and vice-versa. If you have diabetes, it's important that you keep it under control for your gum's sake as much as for your overall health.
Cardiovascular disease. Like diabetes, this group of heart and blood vessel diseases has a related characteristic with gum disease: inflammation. This natural function of the immune system limits tissue damage caused by disease or injury. But in both CVD and gum disease, inflammation can become chronic and itself cause damage. Further, some types of bacteria associated with gum disease can contribute to a higher risk of CVD. Minimizing gum disease occurrence with good oral hygiene could positively impact your risk of CVD.
Pregnancy. While certainly not a disease, pregnancy does trigger hormonal changes in the mother that in turn could elevate her risk of gum disease, particularly pregnancy gingivitis. Not only does this pose problems for the mother's teeth and gums, some studies connect gum disease to the increased possibility of early, pre-term birth. A sharper focus on dental care during pregnancy not only benefits the mother but may also be important for the health of the baby.
These aren't the only conditions that can be affected by gum disease: others like osteoporosis, respiratory disease or rheumatoid arthritis also share links with the disease. If you have any systemic condition like these, it pays to be extra vigilant in preventing and treating gum disease.
If you would like more information on periodontal (gum) disease, please contact us or schedule an appointment for a consultation. You can also learn more about this topic by reading the Dear Doctor magazine article "Good Oral Health Leads to Better Health Overall."
By Clarke Street Family Dental
June 16, 2017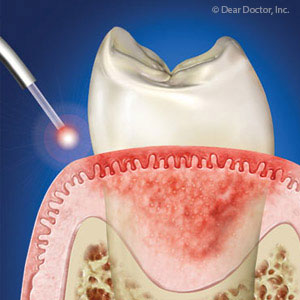 There are a variety of methods for treating periodontal (gum) disease depending on its severity — from routine office cleanings to periodontal surgery. But the goal behind all of them remains the same: remove bacterial plaque and calculus (tartar), the root cause for gum disease, from all tooth and gum surfaces.
The traditional method for doing this is called scaling in which we use special hand instruments (scalers) to mechanically remove plaque and calculus. Scaling and a similar procedure called root planing (the root surfaces are "planed" smooth of plaque to aid tissue reattachment) require quite a bit of skill and experience. They're also time-consuming: full treatment can take several sessions, depending on how extensive the infection has spread.
In recent years, we've also seen a new method emerge for removing plaque: lasers. Commonly used in other aspects of healthcare, lasers utilize a focused beam of light to destroy and remove diseased or unhealthy tissue while, according to studies and firsthand accounts, minimizing healthy tissue destruction to a better degree than traditional techniques. Procedure and healing times are likewise reduced.
Because of these beneficial characteristics, we are seeing their use in gum disease treatment, especially for removing diseased and inflamed tissues below the gum line and decreasing sub-gingival ("below the gums") bacteria.
Dentists who have used lasers in this way do report less tissue damage, bleeding and post-treatment discomfort than traditional treatments. But because research is just beginning, there's not enough evidence to say laser treatment is preferably better than conventional treatment for gum disease.
At this point, lasers can be an effective addition to conventional gum disease treatment for certain people, especially those in the early stages of the disease. As we continue to study this technology, though, the day may come when lasers are the preferred way to stop gum disease from ruining your dental health.
If you would like more information on treating gum disease, please contact us or schedule an appointment for a consultation. You can also learn more about this topic by reading the Dear Doctor magazine article "Lasers Versus Traditional Cleanings for Treating Gum Disease."